Copperstone Mine Overview

American Bonanza's 100%-owned, high-grade Copperstone Mine is located in western Arizona, in the United States, within the Walker Lane mineral belt where it intersects gold provinces in Southern California and Western Arizona. These provinces host a total known gold endowment of over 40 million ounces of gold. Copperstone is located within a lesser-known, globally significant, high-grade gold province.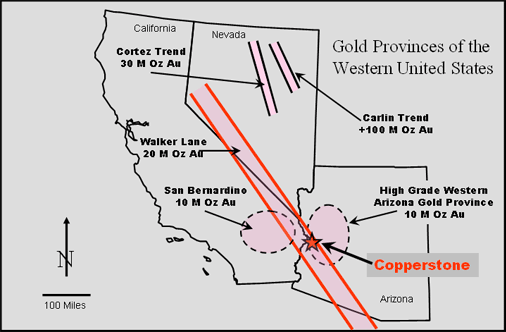 Since the Company announced the positive results of its NI 43-101 Technical Feasibility Report on February 2, 2010 (revised January 10, 2011), the Company has fully permitted the Copperstone Mine project and has developed a trackless underground mining operation, delivering ore to an on-site crushing, grinding, gravity concentration, and finally; flotation concentration, of the gold bearing ore.

The Copperstone Mine is currently in ramp-up phase to achieve commercial production as outlined in the Feasibility Study.

Click here for the latest video showing progress at Copperstone (Sept 2012).


Copperstone Mine Permits

American Bonanza received its final permit for the Copperstone Mine on April 20 2011. All permits were achieved in a rapid permitting time-frame in of approximately one year from the publication of the Feasibility Study in February 2010. See Permits & Titles for further information.


Copperstone Mine Processing Plant

The mill is fully operational and comprises a crush, grind, gravity flotation circuit. The mill is currently permitted to 450 tons per day. (The plant has the capacity to increase to 700 tons per day based on amendments to permits; see Feasibility Study).

In line with the Feasibility Study, the mill has performed consistently at design in terms of throughput, recovery and concentrate grades. An additional Knelson concentrator and Gemini table have been added to further improve the mill's performance.


Copperstone Mine Underground Progress

American Bonanza continues with its target of achieving 450 tons per day of ore mined in order to reach the start of Year One of commercial production. As per the Feasibility Study, three developed mining zones, with a combined total of 7 to 8 working faces, are estimated to deliver the design rate of 450 tons per day. Both the underground development teams and ore mining teams are focused on the rapid advancement towards the start of commercial production. For current progress at the Copperstone Mine, please refer to the latest news in press releases.


*Prepared for American Bonanza Gold Corp. by Dr. Corby Anders, Allihies Inc., MMSA QP, C. Eng FlChemE, Tom Buchholz, BS Eng. MMSA, Chris Pratt, LPG and Jonathan Brown, M.B.A., C.P.G. (the "Study") at Copperstone (see Feasibility Study for details). The Study began during 2009 and was designed to update the preliminary economic assessment completed by AMEC on March 27, 2006. The Study began during 2009 and was designed to update the preliminary economic assessment completed by AMEC on March 27, 2006.