Overview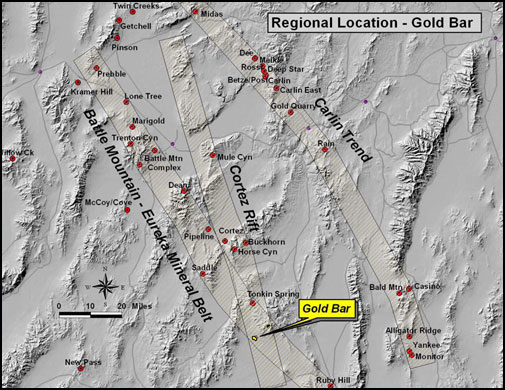 Former mine produced 527,000 ounces of gold grading 2.7 grams per tonne gold.
Structural intersection of Battle Mountain - Eureka Mineral Belt and Cortez Rift - a highly prospective structural location in central Nevada Gold Province.
Bonanza's drilling indicates the Millsite target is a significant gold deposit with most recent intercept of 24.6 meters grading 2.4 grams per tonne gold.
Millsite deposit remains open.
High grade feeder faults have not been explored to depth or along strike - over 2 miles of prospective structure have been identified to date.
The Corporation is focused on the development of a gold mine at Copperstone. Contact us should you be interested in any of our exploration properties.

Qualified Person

Information on this website has been prepared under the supervision of Douglas R. Wood, LPG, a professional geologist employed by American Bonanza at its Copperstone Mine and a qualified person under NI 43-101.



General



The Gold Bar project in Nevada comprise 70 patented and unpatented claims covering 5 square kilometres which are prospective for gold. Gold Bar is subject to a 2 percent net smelter royalty capped at US$1,000,000 on future production.




Location



The Gold Bar properties are located in Eureka County, 50 kilometres northwest of Eureka, Nevada. They are accessible by vehicle, travelling 33 kilometres west on US 50, then north, 25 kilometres on dirt roads.



Geology



The Gold Bar properties lie in the Battle Mountain/Eureka structural mineral trend. They are underlain by a complexly folded and imbricately thrusted sequence of Paleozoic shelf carbonates and deeper water shales and cherts. The Paleozoic rocks are unconformably overlain by a thick sequence of undifferentiated Tertiary volcanics and sediments. Recent pediment gravels fill the valleys.

Primary regional structures are northwest trending strike-slip and dextral wrench faults. These are associated with north-northwest trending dextral synthetic faults, north trending normal faults, northeast trending sinistral antithetic faults and east-west trending compressional faults.




Past Work Program



The Gold Bar property has no record of historic production prior to exploration by Atlas in 1983. Production began at the Gold Bar pit in 1987 and continued until the mine closed in 1994. A total of 7,514,600 tons grading 0.074 opt gold were produced. Recoveries averaged 87 percent, resulting in production of 485,000 ounces of gold.

During their work in 1983 to 1994, Atlas completed mapping, geochemistry, geophysics and drilling. These programs resulted in the discovery or optioning of mineralization at Gold Bar, Gold Pick, Goldstone, Gold Canyon, Gold Ridge, Cabin Creek, Pot Canyon and Hunter. Open pit mining was carried out at all but Pot Canyon and Hunter. The Gold Bar and Gold Canyon areas currently comprise the Corporation's Gold Bar Properties.

In late 1994, Atlas entered into an agreement with Homestake on the southern and northern claims areas. Homestake drilled 26 holes totalling approximately 7,282 metres (23,890 feet) and completed geological mapping, geochemistry and geophysics.

In 1995, Atlas signed an agreement with Granges who completed mapping, geochemistry, geophysics and the drilling of 33 holes totalling 7,314 metres (24,980 feet).

In 1997, Barrick optioned most of the Atlas claims. They completed a program of mapping, geochemistry and geophysics. Fifty holes were drilled in 1997 and a further 33 holes in 1998 totalling 10,796 metres (35,420 feet).



Current Work Program



Under care and maintenance




Map Gallery